Have a stroll around Prague with licensed guides!
| FAQ – Waks and Tours | Walks Meeting Point | About Walks |
Prague by Car Tour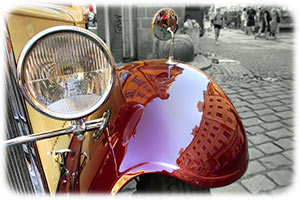 This private car tour of Prague is specifically designed for the busy ones who came to Prague for a short time but want to see the beautiful sights. Since it's a car tour, we encourage elderly people to participate in this. The tour includes a tour guide fluent in English and other languages like Spanish, Italian, Russian, German, etc.
Price: CZK 2000 for a group of three people
Duration: 1 hr 30 min
Individual Walk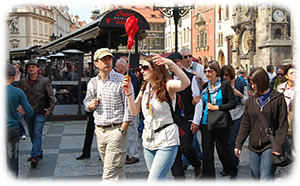 Let us know what you want to see, your time range for the tour and your preferences. This tour will exactly match your wishes. Tour guide in English, Spanish, Russian, Italian, German etc.

Price: Starts at CZK 500 per group for an hour

Duration: No set duration
Private Guides
Our professional private guides can show you all around Prague city and the Czech Republic itself for a tailor-made tour. The guides are licensed and educated professionals, with certification from Prague Information Service. They possess knowledge about the culture, language, history, art and architecture of various regions of the country. We have guides who speak different languages, like English, French, German, Spanish, Italian, Dutch and Russian, so that they can communicate with you easily.
Regardless of how many people there are in your group, we charge a fixed amount. However, for an optimal experience, we suggest that the group should not contain more than 20 people per guide. The standard rate for the common language packages start at CZK 500 per hour for the entire group. Feel free to contact us to know more about prices and offers.