No hassle of taxi meters – fixed prices only to make your trip worry-free!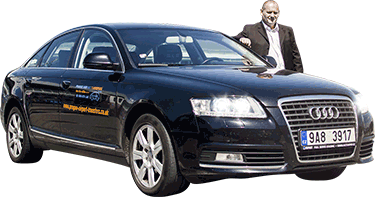 The easiest way to travel within and around Prague is the taxi service. You don't have to worry about finding bus and train stops and planning your route through an unfamiliar city; our Prague taxi service will get you to your destination with no trouble on your part! Our drivers are trained professionals with fluency in English, and have extensive knowledge about the city's roads. They will pick you and your baggage up from your desired spot and take you wherever you want to go. You can book a taxi in advance online by clicking here.
Our Fixed Prague Taxi Prices
Fares
Sedan vehicle (max. four passengers)
Vehicle: Škoda Superb; VW Passat
Price per KM: CZK 28
Minimum charge: CZK 300
Waiting fee: CZK 220 per hour
Mercedes E-class (max. three passengers)
Vehicle: E class 
Price per KM: CZK 35
Minimum charge: CZK 400
Waiting fee: CZK 280 per hour
Minivan vehicle (max. eight passengers)
Vehicle: Mercedes Vito; VW Transporter
Price per KM: CZK 40
Minimum charge: CZK 500
Waiting fee: CZK 280 per hour 
Taxi Zones in Prague
City Zone – The city zone is for short travels within the inner city and anywhere in Prague, but you can still use it for going to the outskirts of Prague from the city centre.
Zone Airport – This is for travelling between Prague Airport and any of the hotels in the city.
Zone Train or Bus Station – This is for travelling to and from the Main and Holesovice train stations to any hotel within Prague.
---
These prices are not inclusive of travel to and from Prague Airport, or the train or bus stations. Those destinations have different set prices.
*The minimum charge per trip is shown in the list above. If the fare calculation based on the km price list is lower than the minimum charge, you will still be charged the minimum price.
**Waiting fee is not charged if the vehicle is stuck in a traffic jam. But you will be charged extra waiting fee if you need to make any stops on the way. This is calculated at 15-minute intervals.
---
How the Fare is Calculated:
The fare is calculated based on the fastest route between your pickup and dropping points. We use Google Maps to determine this distance. Please note, we choose the fastest route instead of the shortest route to make your travel experience better.
Although there are metered Prague taxi services, we charge a fixed price depending on how much you travel. That way, you can be assured that there will not be sky-high surprising fares to deal with at the end of the journey. The fixed prices that we charge for our taxi services are reasonably set and they are among the most efficient and economic ways to move around Prague and its outskirts.
The Following Forms of Payment are Acceptable:

Cash on arrival (we accept CZK, GBP, EUR and USD only)
Credit cards (you can make the payment online or pay the chauffeur)
MC, Visa, AMEX, Diner's Club and JCB are acceptable
Bank transfers (for corporate customers)
PayPal