Our Company Provides Transfers Originating in or Destined for the Czech Republic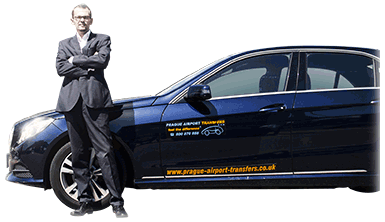 We can organise transfers for example from Prague to Nuremberg or vice versa, but we can't arrange competitively priced transfers for example from Nuremberg to Budapest, as both cities are located outside of the Czech Republic. In that case we would have to send our vehicles from Prague which would incur many extra miles, making the transfer very expensive.
To make a booking just click on the name of the city or town, or to request a price quotation for destinations not listed here, simply email us your details and you will shortly receive an exact price offer back from us. If you wish not to make a direct transfer, you can break the journey with a few hours' visit to an interesting place en route. There will be a small waiting charge. Also, for an extra charge, we can arrange a guide.
Transfers between Prague Airport (or Downtown) and EU Cities
|  Berlin |  Bratislava |  Budapest |  Dresden |  Frankfurt  |  Jelenia Gora  |  Katowice  |  Krakow  |  Linz  |  Munich  |  Nuremberg  |  Passau  |  Salzburg |  Vienna  |  Warszawa  |  Wroclaw  |  Zurich  |
We Offer Three Types of Fares
One way – our standard charge.
Same day return – You'll pay only a one-way fare plus a waiting charge, so your return leg is free. This is your cheapest option if you're travelling to and from the same destination on the same day.
Any day return – multiply the one way charge by two.
Waiting Fee Charge
If you require waiting or a multi-stop transfer, for example you go to one city where we wait for you and then you continue on to somewhere else, we will add a waiting charge to your fare. Our waiting charges are as follows: 1-4 people: CZK 220 per hour; 5-8 people: CZK 260 per hour. For large groups please do contact us. We do not charge this fee for short stops not exceeding 15 minutes.
10% Off Minibus Long-distance Transfers
If you travel with us between Prague and other EU cities like Vienna, Nuremberg, Passau, and Krakow etc., we offer 10% discount on such transport if you book and pre-pay a Superior Tour of Prague or Dinner on the river cruise. To be eligible for this promotion, you have to quote/write note 'Long Distance Transport 10% discount' when making your booking. Bookings must be paid at least 24 hrs prior to your pick-up or tour date. Standard cancellation policy applies.
FAQ
Can we stop for the lunch, quick tea break, refreshment etc along the way? Yes, we are quite happy to stop along the way, just make a note when making your booking (at no extra charge).
How is the fare calculated? We use Google maps to determine the distance between your pickup and destination points. When determining the route, we choose the fastest route, which is not always the shortest route.
Kilometre Price List for Destinations outside Prague
| | | | | |
| --- | --- | --- | --- | --- |
|  Km distance | Group 1 – 4 pers. | Group 5 – 8 pers. | Group 9 – 20 pers. | Group 21 – 49 pers. |
| Up to 200 km | CZK 20 | CZK 25 | Ask Us | Ask Us |
| More than 201 km | CZK 18 | CZK 22,50 | Ask Us | Ask Us |
|   1hr waiting fee | CZK 220 | CZK 280 | Ask Us | Ask Us |
|  Vehicle | Sedan or Minibus | Minibus | Larger Minibus | Coach |
*There is a minimum charge of CZK 500 per trip. If your fare calculation based on the km is lower than this amount you still be charged our minimum charge.
**There is no traffic waiting fee. If your vehicle is stuck in a traffic jam we do not charge extra. But if you require waiting at your request we do charge a waiting fee per hour (charged per each 15-minute interval).
For Transfers in Other Countries
For transfer origination in other countries we highly recommend the following UK transfer company: Holiday Taxis.