Transport from Prague Airport or Prague Centre to Budapest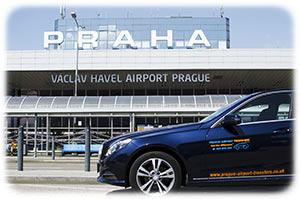 We provide private transfers from Prague Airport or Prague Centre to Budapest (in both directions). We operate an on-demand taxi and minibus door-to-door service. Transfer prices are quoted per vehicle for a whole group to any location or any hotel in Budapest / Prague, including possible taxes and highway toll fees. Prices for a larger minibus which can accommodate nine or more passengers are available only on request.
It is an excellent alternative to travelling by bus or train. With us you get great flexibility as you choose the pickup time and you choose the stops. We also save your time as travel time is reduced by nearly 50%. And with us you might even save money, as for larger groups it might work out even cheaper.
Prague Airport <-> Budapest
Travel time: 5hr 05min; Distance: 546km
| | | | |
| --- | --- | --- | --- |
|  Group | Group 1 – 4 pers. | Group 5 – 8 pers. | Larger group |
|  Price | CZK 9828 | CZK 12285 | Ask Us |
|  Vehicle | Sedan / Minibus | Minibus | Minibus / Coach |
BOOK THIS TRANSFER ONLINE
Check prices in your currency (EUR, GBP, USD etc.)
Prague Centre <-> Budapest
Travel time: 4hr 45min; Distance: 525km
| | | | |
| --- | --- | --- | --- |
|  Group | Group 1 – 4 pers. | Group 5 – 8 pers. | Larger group |
|  Price | CZK 9450 | CZK 11813 | Ask Us |
|  Vehicle | Sedan / Minibus | Minibus | Minibus / Coach |
We Offer Three Types of Fares
One way – our standard charge.
Same day return – You'll pay only a one-way fare plus a waiting charge, so your return leg is free. This is your cheapest option if you're travelling to and from the same destination on the same day.
Any day return – multiply the one way charge by two.
Waiting Fee Charge
If you require waiting or a multi-stop transfer, for example you go to one city where we wait for you and then you continue on to somewhere else, we will add a waiting charge to your fare. Our waiting charges are as follows: 1-4 people: CZK 220 per hour; 5-8 people: CZK 280 per hour. For large groups please do contact us. We do not charge this fee for short stops not exceeding 15 minutes.
Stopover Tip
Transfers from Prague to Budapest (or vies versa) can be combined with a recommended visit to Vienna or Bratislava, which lie on the way. You can choose either to travel via Vienna or Bratislava, and stop there for a short visit to the city or just a lunch etc. The price will be slightly higher because a waiting fee will be added. If you are ok with a small detour, not too far off the road are other interesting places like Český Krumlov, Tábor, Telč, Melk, Linz, and Třeboň.
FAQ: Prague to Budapest Transfers
Can we stop for lunch or to see other places along the way?
Yes, we are very happy to do quick stops along the way at no extra charge. If you require a longer stop, for example to explore Vienna or Bratislava for a few hours, we will charge just a small waiting fee.
We are group of four people and wish to book a transfer from Budapest to Prague. I can see your company is based in Prague. Can you provide such a transfer?
Yes, we provide transfers between both cities (in both directions). But if you are booking a transfer which does not originate in Prague, the transfer (or at least a deposit) must be paid in advance. Or you can provide your card details as a guarantee.
We are group of four people and have a lot of luggage. Will they fit into a sedan vehicle?
If you let us know in advance we will send a spacious minivan instead of a sedan vehicle. The price will not be increased (you will only pay the sedan price).
We are looking for the most economical way to travel between Prague and Budapest. Are your transfers cheaper compared to travel by train or bus?
It depends on the number of passengers travelling. If you are booking a trip for one or two people then train or bus definitely works out much cheaper. If four persons are travelling then the price is about the same travelling by bus or train. Generally for larger groups it might be cheaper travelling by private transfer.
What are the advantages of using your transfers compared to travelling by train or bus?
Our transfers are provided with new and comfortable vehicles. But the most significant benefit is the travel time, which is much shorter compared to the regular bus or train connection. The same transport takes over 7hrs by train (in addition to likely delays), 7.5hrs by bus, and less than 5hrs by our comfortable minibus. Plus, with bus or train you need time and another form of transport to get to and from your address or hotel to your final destination. With our door-to-door transport, there are no other stops on the way unless you ask us to do so (for toilet, lunch, sightseeing, etc). If you travel by train or bus you will also have to add costs for getting to and from the train or station from your hotel.
What is the fastest means of travel between Prague and Budapest?
Private transfers are the quickest way of getting from Prague to Budapest. It takes around 5hrs. If travelling by train or by bus at the journey time will be at least 7.5hrs.
We are travelling with our small baby. Are baby seats obligatory?
Yes, by law baby seats are required. For your baby's safety, we will provide them free of charge.
Can your driver recommend us some nice place for a lunch/dinner on the way?
Yes, our driver will gladly help you with that or any other questions you might have.
We are a group of 60 people requiring a transfer from Prague to Budapest. Can we rent a coach with your driver for that journey?
Certainly – please contact us for an exact price quote.
Do you provide cheaper shared shuttle transport between Prague and Budapest?
Unfortunately we do not operate such a service for transport outside of Prague. You might wish to consider using the train or bus instead. We can arrange transport from the airport to the train or bus station, and we can advise on the best transport available.
We are very interested in this transport but prices are too high. Can you give us a discount?
Unfortunately we are not able provide discounts unless you find a cheaper price from a reliable company for the same service we offer. We believe that our prices are already very competitive.
Special offer
You can save 10% from listed prices if you book and pre-pay a Superior Tour of Prague or Dinner on the river cruise. To be eligible for this promotion, you have to quote 'Long Distance Transport 10% discount' when making your booking (or email us). Bookings must be paid at least 24 hrs prior to your pickup or tour date. Standard cancellation policy applies.

Free Minibus Upgrade
Some airport taxis will only take up to three passengers and might not be able to store your large bags in their sedan vehicle. With Prague Airport Transfers, we will accommodate groups of up to four passengers and your luggage in a bigger vehicle for no extra charge. To request this service, simply choose "Minivan/Minibus free upgrade" on your booking form. For groups of five or more persons this offer does not apply and only the minibus at standard price is available.

We Accept the Following Forms of Payment
-> Cash upon arrival (we accept CZK, GBP, EUR and USD)
-> Credit cards (you can pay online or pay your driver)
-> We accept MC, Visa, AEMX, Diner's Club, JCB
-> Bank transfers (corporate customers)
-> PayPal